Friday, September 30, 2005
WOOHOO!!
I started following the south beach diet last Saturday. I've already lost 4lbs!! I've always been anti-Atkins/southbeach.What amazing results for one week. I wasn't even being overly strict with myself. I even cheated a couple of times with a few drinks but still I lost!
Wednesday, September 21, 2005
I never win anything cool......
I never win anything cool but........Today when Chris and I were driving into town we were listening to the local radio station 98.3 and the dj said caller 9 would qualify to win tickets to Collective Soul. Surprise surprise I was caller 9 !!! So I will be seeing Collective Soul on October 8th. WooHoo to me. Very happy and surprising belated birthday gift.
Tuesday, September 20, 2005
100 acres personality quiz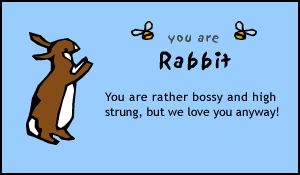 Take the 100 Acre Personality Quiz!
Friday, September 16, 2005
New Belt and Survivor
I passed my belt test yesterday!!! I am now a green belt! WooHoo! Almost half way to black. On a completely differnt note I was soooo excited when I saw BobbyJon and Steph return on Survivor for this season. I think its going to be a good seson. Yipee Survivor. I still think the best survivor would be USA against Canada. That would get killer ratings.
Monday, September 12, 2005
I'm a Samurai Killer !
You are a Samurai.
You are full of honour and value respect. You
are not really the stereotypical hero, but you
do fight for good. Just in your own way. For
you, it is most certainly okay to kill an evil
person, if it is for justice and peace. You
also don't belive in mourning all the time and
think that once you've hit a bad stage in life
you just have to get up again. It's pointless
to concentrate on emotional pain and better to
just get on with everything. You also are a
down to earth type of person and think before
you act. Impulsive people may annoy you
somewhat.
Main weapon:
Sword
Quote:
"Always do the right thing.
This will gratify some people and astonish the
rest" -Mark Twain
Facial expression:
Small smile
What Type of Killer Are You? [cool pictures]
brought to you by
Quizilla